I'm back! Sorry for the lack of posting :(! I don't really have anything new I can wear haha. Luckily, I went to Macon yesterday with my mom and got these lovely high waisted shorts that fit like a charm. The top is a 1960's handmade dress (too short for me) that I finally figured out how to wear. The print is so ecstatic. It has oriental bursting baby blue flowers and long black branches accentuating the neon red. It's cut to a sharp slanted angle at the bottom and would be so darling as a dress. What better way to pair an amazing find with another? I found this hand painted Hobby Holly oyster shell necklace at Salvation Army for 99 cents. When I saw it I knew I had to have it! Pairing it with this outfit made me feel so unique..and a bit sexy too! HAHA, just kidding on the sexy :). I hope you enjoyed this post :). Have a great week.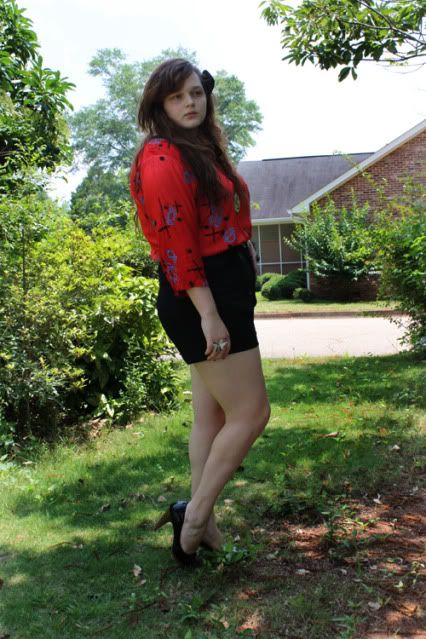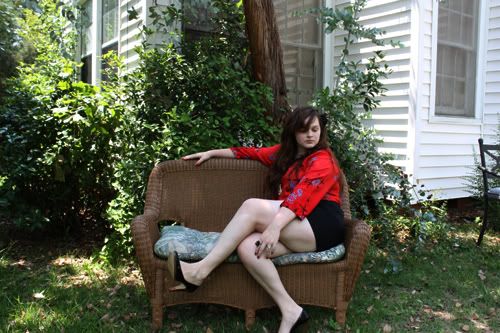 *Wearing
1960s Floral Dress (Top), Belt, and Purse - GoodWill
Black High Waisted Shorts - Ross
Black Pumps & Hobby Holly Oyster Shell Necklace - Salvation Army
Bow and Flower Ring - Claires
Butterfly Ring - Thrifted


<3 Lyndsey

P.S - Congratulations to Erin of Tog and Trappings! She was picked as Blogger Of The Month this month by me! If you want your chance to become blogger of the month, just click the button on the left side of my blog :).